Travel Specialties
Interests
Adventure
Beach & Sun
Sports & Outdoors
Safari
Spa Vacations
Destinations
United States - All
Australia
Canada
New Zealand
Antigua And Barbuda
Selling Travel Since
1993
My Background
Do you love exploring the outdoors? Are Australia, New Zealand and the South Pacific on your bucket list? Do the American West and US National Parks intrigue you?
I am a Premier Aussie Expert, chosen by the Australian Tourism Board for my knowledge and passion of the destination, and the proud recipient of an Opal Award for marketing and promotions from Tourism Australia. Tourism New Zealand has given me Kiwi Expert golden designation.
As a Travel + Leisure Magazine's A List Agent, I specialize in itineraries to the American West and National/State parks, where I travel as often as possible for my own "hit" of Mother Nature. If you want to experience Alaska and Canada…let me at it! How about Hawaii? I have travelled to all the islands many times. Photography is also a passion. I won first place in the prestigious Virtuoso Travel Agent Photo Contest with my photo of Monument Valley.
Other accolades I have received include Virtuoso Most Innovative Agent nominations and two platinum awards from Swain Destinations.
I look forward to hearing from you and making your dream trip a reality! BTW I am not just limited to the above destinations. I have the whole world in my hands!
Places I Have Traveled
Reviews and Recommendations for Deborah Trevino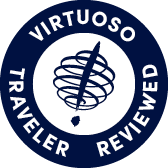 Virtuoso Verified Traveler
All reviews are from confirmed guests sharing exclusive insights
Sort reviews by
Recommended
Outstanding
By: nickname
Reviewed on: 23 Sep 2013
Debbie put the entire trip together. She grasped the environment and style of vacation my wife and I were trying to achieve. I think that's the most difficult task and she did a terrific job understanding exactly what we were looking for. I will use Debbie again!
Recommended
Does a great job
By: Steve1995
Reviewed on: 13 Oct 2013
Deb worked with us to meet our needs throughout the planning process. Our trip was very enjoyable and went very smoothly.
Recommended
Recommended
By: Steve
Reviewed on: 07 Oct 2013
Debbie provided scheduled tour operations that were outside of our requested time frame and included more than we requested on one instance. Otherwise, she was extremely helpful and helped us with information needed to prepare for our trip.
Recommended
The Best
By: Tag
Reviewed on: 15 Oct 2013
Debbie has booked many trips for us and we wouldn't think of going to anyone else. She is very thorough and takes her time to make sure that everything is just the way we want our trip to be. Debbie is not only a fantastic travel agent, but a absolute delight to talk to.
Recommended
By: Col33
Reviewed on: 11 Oct 2013
Debbie is professional and treats each trip with the same care. Whether complete airline, hotel, railway and tour passes or simply flight info and reservations, No trip is too small for Debbie.
Recommended
Highly Recommended
By: Lee & Ed
Reviewed on: 11 Oct 2013
Debbie is the best and I will use her whenever I can to help me plan memorable vacations. She is helpful, considerate, pleasant, extremely knowledgeable, and very caring.
Recommended
absolutely fabulous
By: winnie the pooh
Reviewed on: 19 Nov 2013
not one bad moment everything was perfect, food, lodging, ship's crew, etc. look forward to panama.
Recommended
Exceptional knowledge and quick search for vacation ideas and reservations
By: Celestial
Reviewed on: 26 Nov 2013
Always knowledgable and creative when talking with Deborah ....she gives instant vacation reservations...is very concerned if I am satisfied and will always check back to make sure everything is going smoothly...excellent advocate..her vast connections and expertise in the travel world is excellent....
Recommended
Highly Recommended
By: bmartin1979
Reviewed on: 07 Dec 2013
Thanks to Debbie I had one of the best vacations of my life, and she made it so simple. I told her exactly what I wanted and she worked with me till we got it done. As a single lady traveler I found Debbie's expertise to be key to putting me in the best part of town considering things to do as well as my safety. I will definitely be seeking her help with my next vacation.
Recommended
Great Trip
By: Deni170
Reviewed on: 02 Jan 2014
Thanks for the suggestion of the RIU Palace Tropical Bay in Negril, Jamaica. Our group of 21 had a great time. The rooms were very nice and the food was good. We ate at the buffet each night as we are a large group and could not get a reservation for the other restaurants. The theme at the buffet changed each night so we had a great variety to choose from. The staff assisted in helping us celebrate several birthdays with cake and singing.
Recommended
Highly recommend
By: Not provided
Reviewed on: 20 Jan 2014
Everything went well. Planes on time arriving and departing. No lost luggage.
Recommended
Highly Recommended
By: Kim E
Reviewed on: 03 Feb 2014
Recommended
yes -- satisfied customer
By: nellie
Reviewed on: 22 Jan 2014
accurate and quick response she met my expectations
Recommended
Yes we wouls recommend Deb.
By: Not provided
Reviewed on: 08 Feb 2014
Recommended
Recommended
By: Lali
Reviewed on: 21 Mar 2014
I came to Debbie and explained to her I wanted to go on an escorted tour to Australia and I asked her if it was doable to book a trip leaving in a couple of weeks.  She said yes.  The next day she got back to me with an option.  Over the next week we communicated back and forth to come up with an itinerary that would meet my interests.  It was a short window of time, but she managed to get everything done to book the trip I wanted and make it happen for me. 
Recommended
By: Not provided
Reviewed on: 14 Mar 2014
Recommended
highly recommended
By: Don
Reviewed on: 18 Apr 2014
Excellent job with airline & hotel - only agent that I use!!!
Recommended
Easy to work with
By: Not provided
Reviewed on: 10 Jun 2014
Deb was easy to work with, kept us informed and gave us great advise as we planned for our first river cruise in Europe. 
Recommended
Highly Recommended
By: Tag
Reviewed on: 17 Jun 2014
We have been dealing with Debbie for a number of years and wouldn't think of going to anyone else. Not only is she a fantastic travel agent, but she's absolutely delightful to talk to. All the trips she has arranged for us have been terrific. We value her opinion and all her input she has to offer, her experience is unlimited. We would, and do, highly recommend her to everyone.
Recommended
Highly recommend
By: Jim
Reviewed on: 04 Jul 2014
With short notice Debbie planned a fabulous trip for us. After carefully listening to our desired location and type of cruise we wanted, Debbie presented us with several alternatives which matched our expectations. We selected one of the suggested cruises. This Western Mediterranean cruise actually exceeded our expectations in every aspect. 
Recommended
Australia Family Trip
By: TimB
Reviewed on: 04 Aug 2014
Fantastic trip! Highlights included the Great Barrier Reef, Uluru, Wolgan Valley and Sydney. Longitude 131 at Ayers Rock/Uluru and Emirates Wolgan Valley Resort were exceptional. We highly recommend Quay and Mr. Wong restaurants in Sydney. Debbie arranged the perfect itinerary.
Recommended
Leave it to a pro!
By: Susan64
Reviewed on: 25 Aug 2014
On our recent family trip to Oregon, we had the pleasure of working with Debbie Trevino of Hobson Travel. After talking to me about the types of activities we wanted to do, our budget and timeline, Debbie came up with a plan that fit all our criteria and exceeded our expectations. The guide service that she coordinated with in Klamath Falls was outstanding, and we were very comfortable in the accommodations. Debbie did an excellent job of keeping us updated when there was a tour time departure change and I truly felt that we could call her at any time if there were any problems along the way. I would definitely use Debbie in the future and would recommend her to my friends and family.
Recommended
Expert friendly service
By: Dori
Reviewed on: 04 Sep 2014
Our Windstar trip to Scandinavia was great! Nonstop flight to Stockholm and return from Edinburgh. Thanks, Debbie! The Windsurf had been refurbished since our last trip on her. Beautiful! The staff and crew were exceptional and the food was the best we've ever experienced on any cruise! Ports of call didn't disappoint. Strongly recommend this ship, wherever it is! Dori
Recommended
The BEST
By: Bill
Reviewed on: 20 Oct 2014
Deb knows Australia. And she knows how to transform that knowledge into an extraordinary travel experience. Would rely on her expertise for future travel plans and have and would continue to recommend her to friends.
Recommended
Best travel advisor anywhere
By: celestial
Reviewed on: 12 Dec 2014
Debbie always has more ideas than I give her when we plan my trips...excellent organizer.. Goes above and beyond in her interest for my travels...
Recommended
Wonderful!
By: JimW
Reviewed on: 13 Dec 2014
Had a great time. Will definitely use Deborah again in the future. Had a great time and will go back to a similar place in the future. Probably not to the same place, just for variety.
Recommended
Rainbow and Brown Trout
By: Tom
Reviewed on: 31 Dec 2014
Hi Deb I had a really good time. Doesn't look like the review I wrote fits in this space. I will send you a word file. tom
Recommended
Vegas
By: curlew
Reviewed on: 09 Feb 2015
We thought the trip was excellent and well planned.
Recommended
Debbie Trevino is the best!
By: TPB
Reviewed on: 26 Apr 2017
Debbie has planned several family and business trips for me over the years. She is incredibly responsive and organized....and fun to work with. She understands how to pace a trip, so its fun and active but not exhausting. She arranges the best accommodations, activities, guides and restaurants. I've referred her to many friends, family members and business colleagues and all have been extremely pleased.
Recommended
Deborah Trevino
By: lakeen
Reviewed on: 26 Apr 2017
It was a pleasure working with Debbie! She is a true professional and always had time to explain any of our questions. She gives good advice on what stateroom would be best for us, meal plans, etc.
Recommended
Virtuoso review
By: Ginny
Reviewed on: 02 May 2017
Debbie is an exceptional travel advisor and it's enjoyable and satisfying to work with her. She asks questions to gather information about our desires and expectations for the trip. After collecting information, she offers ideas and suggestions. After the discussion she then makes suggestions followed by more discussion and finally we book the trip. Debbie listens closely during our conversation and clarifies when necessary. She "reads" us well and has a delightful sense of humor. She makes planning our adventures enjoyable, easy and a breeze!
Recommended
Chile and Antarctica Experience
By: anonymous
Reviewed on: 27 Apr 2017
We have used Debbie for several trips and were pleased with all of them.
Recommended
River Boat Cruise
By: Marla
Reviewed on: 27 Apr 2017
My husband and I have worked with Deborah for a number of years. She is very professional.
Recommended
River Boat Cruise
By: Kurt
Reviewed on: 27 Apr 2017
Deborah is very helpful and makes planning the trip a wonderful and stress free event. I have worked with Deborah for a number of years and will continue to do so.
Recommended
Debbie is great😊
By: Lbj
Reviewed on: 27 Apr 2017
Fantastic! Very responsive and personable .Answers all our Questions in a timely fashion and keeps us up to date on everything. Enjoy working with Debbie and hope she will Be able to help us with our travels for a long time!!
Recommended
Our "Trip of a Lifetime"
By: Jim & Jen
Reviewed on: 01 May 2017
Debbie was extremely helpful, knowledgeable, organized, and thoughtful. She answered all of our questions and prepared us beautifully for our travels. She was especially good at helping us stay within our budget by booking accommodations within walking distance to attractions and restaurants. She went the extra mile to get us what we wanted, even when it looked like it would be impossible to do time wise. We would highly recommend her to anyone!
Recommended
Deborah is the best!
By: AmyLA
Reviewed on: 05 May 2017
Deborah (Debbie) is a true professional and is a trusted and valued advisor to us. She took exceptional care of the numerous details required for us and our parents in booking our family cruise. She was highly knowledgeable about our ship and travel in general. She did a great job at making things easy for us and fulfilled/followed through on all of our requests including very specific ones (such as birthday requests and amenities). In addition to being professional and responsive, she has a great personality and sense of humor and is a true delight to work with. I highly recommend Debbie and will continue to book with her for any future travel!
Recommended
New Zealand Trip
By: nan
Reviewed on: 13 May 2017
Debbie was very good to work with. She always answered my calls immediately and was very helpful. I especially appreciated the accommodations that she booked us at. I really liked all of them with the exception of the one in Auckland. Also loved the wine tasting tours and food tour in Wellington. All in all she did a great job. I would only have changed one or two things on our itineary.
Recommended
Travel
By: Italy
Reviewed on: 20 May 2017
She took care of everything!
Recommended
Review
By: Batman
Reviewed on: 30 May 2017
She was fine, everything went great. Mission complete.
Recommended
Australia Specialist
By: Claudia
Reviewed on: 25 Jun 2017
Debbie's knowledge, candor and insights ensured that our first trip to Australia was exceeding our expectations. She listened to my very first requests and quickly advised destinations and activities and presented an itinerary. She was patient in making requested changes or providing additional information. Her insight knowledge of the destinations ensured that we did not only see the usual sights but also genuinely experienced the country. I completed trusted Debbie's judgement and was not disappointed.
Recommended
tour operator
By: burtramo
Reviewed on: 23 Jun 2017
terreferic!.gerrrrate!
Not Recommended
Slovenia and Croatia
By: Lee
Reviewed on: 20 Jul 2017
Guide Tonya was wonderful and would use again. Extremely knowledge and accommodating. Bus/van was comfortable, safe, clean, and had great driver who was always on time. I don't think Debbie has been to Slovenia and Croatia. All rooms had double beds so an additional person could have joined our group with our single. Debbie said no rooms available but single already booked so room there. Info said both euros and kunas good, but Croatian stores wanted kunas. I'm general, trip was wonderful and I'd return to Slovenia and Croatia in a heartbeart!
Recommended
Slovenia/Croatia
By: Croation3
Reviewed on: 26 Jul 2017
Deb, was very good at understanding what our travel grp wanted to experience. The tour she provided was very well lead, and plane travel was reasonable.
Not Recommended
Croatia
By: Kathy
Reviewed on: 22 Jul 2017
I loved Croatia but felt Deborah did not do her homework. A friend of mine wanted to go on the trip. Deborah told me one of the rooms was a single and could NOT be changed. However, the single room was indeed a double room the ENTIRE trip and she could have gone!! Also, my son & daughter-in-law did not stay at hotels the first 3 nights and they they were charged the same price for the trip as I was. They had a 3 hr car ride from Slovenia to Croatia and she said it was the same cost. Really? They were very nice hotels! Otherwise, the trip was lovely. I would go again.
Recommended
Debbie
By: Barbara
Reviewed on: 22 Jul 2017
Great wonderful. Flawless
Recommended
Scotland
By: Jim
Reviewed on: 18 Sep 2017
Scotland was wonderful but the Royal Scots Hotel in Edinburgh was the pits...dirty carpets and we were placed in the basement and paid the same amount as our four friends that had beautiful rooms! It just didn't seem financially fair! The Cameron House was tremendous and what we are accustomed.
Recommended
AmaWaterways Trip
By: Kurt
Reviewed on: 16 Sep 2017
Deb has helped us plan our last five tours. We value her advice and are extremely satisfied with her.
Recommended
Cruise
By: Star
Reviewed on: 17 Sep 2017
Very prompt with responses. Knowledgeable. Efficient. Thorough with all documentation. Easy to work with
Recommended
river cruise
By: me
Reviewed on: 19 Sep 2017
excellent person to work with.
Recommended
Royal Carribean Cruise
By: VLA
Reviewed on: 08 Oct 2017
There are no other words to describe Deborah Trevino but AWESOME! I never book a trip without her! Each and every time she is so accommodating and so completely pleasant! I love working with her! It is a total peace of mind to use her for any trip booking because she goes above and beyond to ensure everything with the trip goes smoothly. Thank you so very much Deborah, you are TOP NOTCH!
Recommended
Trip to Poland
By: Cruella
Reviewed on: 05 Nov 2017
I love that Debbie takes the time to understand our interests, so she can advise us on special experiences.
Recommended
tac_vacation
By: tac
Reviewed on: 19 Oct 2017
Working with Deb is always great. First, she is extremely knowledgeable. Second, she listens to what I want to do on my vacations. Third, she puts a plan together that makes a first class trip that matches my wants. Finally she is with you the entire way no matter the changes you want to make or trouble you run into on the trip. She does a great job but she is even a better person. I can not say enough about her. Every vacation with her has exceeded my expectations.
Recommended
Australia Trip, October 2017
By: MK
Reviewed on: 05 Nov 2017
Debbie was very responsive to all of our questions during the initial trip planning, and before we knew it, she had a first draft itinerary created for a 3-week trip! She took many of our "likes" into consideration and chose destinations, excursions, and other activities appropriately. Overall, this ended up being a wonderful trip that was well-planned in advance of our actual travel.
Recommended
Deborah Trevino
By: Lila
Reviewed on: 18 Nov 2017
Deborah was wonderful and secured tickets and lovely hotel rooms for our trip to Norway and Denmark. We only gave her three weeks advance notice. She is very efficient and organized. She responds to emails almost immediately. I will definitely use her again.
Recommended
NZ/Australia Trip
By: Linde
Reviewed on: 19 Nov 2017
Debbie acted professionally throughout the entire process.
Recommended
Virtuoso travel advisor
By: T&G
Reviewed on: 14 Jan 2018
Debbie is a superb travel advisor. She knows her clients and their tastes. She anticipates their need a and takes actions to please them. We have had superb assistance from her for more than eight years, since we retired and began traveling
Recommended
Always helpful
By: Shorty
Reviewed on: 05 Feb 2018
We have worked with Debbie for many years. She has always done a good job for us. She is quick to respond and often has good suggestions for places to go.
Recommended
Australia 2018
By: Jeff
Reviewed on: 20 Feb 2018
Very nice. Professional and comprehensive.
Working with Deborah Trevino, you will have access to:
- An experienced travel guide whom you can rely on before, during, and after the trip
- Exclusive luxury resorts and properties
- Once in a lifetime experiences
Explore with the Best
Virtuoso Advisors are constantly pushing the boundaries in unique travel experiences.
Alliance programs are unique tailored experiences exclusive to travelers working with Virtuoso Travel Advisors.
learn more
United States - All
Australia
Canada
New Zealand
Antigua And Barbuda
Barbados
British Virgin Islands
Cayman Islands
Dominican Republic
France
French Polynesia
Jamaica
Saint Lucia
Mexico
U.S. Virgin Islands