Barbara Stein
CTC
Hollywood, FL United States
Travel Specialties
Interests
Culture, History & Arts
Shopping
Ocean Cruising
River Cruising
Selling Travel Since
1979
My Background
In my 42 years in the travel industry, I have traveled to all 7 continents (Antarctica 5 times), and 258 countries on the Travelers Century Club list. I specialize in Asia, having traveled there extensively, and Africa, having been on safari more than 20 times. I lived in Egypt for a number of years, and know and love the country well. Cruising is one of the most wonderful aspects of travel, and I have been on 160 cruises and hosted more than 60 cruises for Virtuoso Voyages, including 10 World Cruises. I am eager to share my vast experience, and welcome the opportunity to make travel special for my clients
Places I Have Traveled
Reviews and Recommendations for Barbara Stein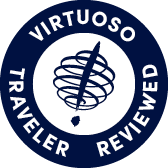 Virtuoso Verified Traveler
All reviews are from confirmed guests sharing exclusive insights
Sort reviews by
Recommended
Barbara is an awesome "adventure planner" for my unusual and creative global journeys.
By: Betsy
Reviewed on: 07 Nov 2013
Barbara is an extraordinary global travel planner for me. She flawlessly crafts complicated travel itineraries for me that are always executed flawlessly. Her vast travel experience is her strongest attribute. Barbara consistently builds me unique travel itineraries that always include unparalleled learning experiences for me. I remain a Virtuoso customer because of Barbara.
Recommended
Most highly recommended
By: trivializer
Reviewed on: 07 Nov 2013
We have been clients of Barbara for many years. She is outstanding in her knowledge of the most interesting places to visit having been to virtually everywhere. She is patient no matter how much I hassle her and doe all she can to assure us that our best interests are her best interest. We are truly lucky to have discovered Barbara as our travel professional.
Recommended
Highly recommended
By: Betsy
Reviewed on: 25 Nov 2013
When I want an exotic and engaging travel experience anywhere around the globe, Barbara Stein is the Virtuoso representative that I turn to in order to make it happen flawlessly. Barbara epitomizes the quality travel expert that is expected by me as a Virtuoso client.
Recommended
Extremely high recommendation
By: Alan
Reviewed on: 28 Dec 2013
The many trips that Barbara has planned for us have always met or exceeded expectations. She is efficient, amiable and most important to a traveller knowledgeable. she is very experienced and having spent time in many locales she knows the cultures and nuances necessary to maximize the pleasures of the places visited. Her choices of places to stay, local guides and drivers have been perfect.
Recommended
Outstanding!
By: Betsy
Reviewed on: 03 Jan 2014
Barbara Stein continues to excel in creating unique global travel adventures for me. She is innovative and highly creative while flawlessly orchestrating my complex world-wide travel plans for 2014. As a Virtuoso travel expert, Barbara continues to remain the "best of the best".
Recommended
Highly Recommend
By: SusanL
Reviewed on: 25 Jan 2014
In August 2013, we were contacted by Canadian friends to join them on a cruise. Having worked with Barbara many times, we immediately contacted her to get the ball rolling. As per usual, Barbara did a superb job of getting everything together for us and making it as easy as possible. She even sent us a complimentary bottle of wine during the cruise. Thank you once again Barbara!
Recommended
Highly Recommended
By: Betsy
Reviewed on: 17 Feb 2014
Barbara Stein is absolutely the finest travel expert that I have dealt with.  Every travel action she takes on my behalf is creative and flawless.  I remain a Virtuoso client solely because of Barbara's proven talents as your travel representative.
Recommended
I highly recommend Barbara Stein.
By: Betsy
Reviewed on: 26 Mar 2014
Barbara Stein epitomizes the extraordinary knowledge and global travel expertise that is requisite in a Virtuoso agent.  Barbara is the reason that I remain a Virtuoso client. 
Recommended
Highly Recommended
By: Betsy
Reviewed on: 26 Jul 2014
Barbara Stein in the penultimate travel expert!  I give her the most complicated travel requests, and Barbara turns them into my "dreams achieved!"  She handles all of my travel needs flawlessly.  I can not imagine a travel expert who is any finer a professional than Barbara Stein.  She is the sole reason that I remain a Virtuoso customer.
Recommended
Tremendous travel experience
By: Betsy
Reviewed on: 21 Aug 2014
Barbara prepared a fantastic travel adventure for my sister and myself that was interwoven with a 35-day Voyage of the Vikings cruise/tour. She created several unique travel experiences for me within my "Viking Adventure." As always, Barbara's focused attention insured that I had a flawless travel experience.
Recommended
Amazing preparation and advice
By: Siblings that travel
Reviewed on: 26 Oct 2014
Barbara found us the ideal cruise at the ideal price and then got us upgraded. We had a wonderful time and had no problems, her suggestions of what to see were very helpful. We have worked with her for over 15 years and now everyone in my extended family uses her. We are all very happy with the help,advice and service she has given us.
Recommended
Outstanding work!
By: Elizabeth
Reviewed on: 28 Dec 2014
Barbara did an outstanding job in creating a fantastic itinerary for my just-completed trip. Her planning was absolutely flawless!
Recommended
Amazing knowledge and service
By: Love to cruise
Reviewed on: 28 Dec 2014
Barbara plans all the vacations for my extended family. She helped with my nephew's honeymoon and she is now helping to organize a retirement cruise for my brother-in-law. Her suggestions are always wonderful and add to the enjoyment of our vacations. She knows all about local shopping and the best museums and historical sites to visit, which always enrich our trips. Barbara puts enormous effort into planning trips for her clients. She always has great suggestions and she really does her utmost to take care of the details. Everyone at Poste Haste Travel is there to help you and answer questions. We are so totally spoiled that I don't think we could work with anybody but Barbara and Poste Haste Travel. One of the way she's been most helpful to me is to compare different cruises and trips and find true value for me. I always feel that I got a good deal and the best possible value for my money. I wish that everyone was as conscientious as Barbara.
Recommended
Fantastic experience
By: Al
Reviewed on: 23 Jun 2015
Barbara's trip planning created a fantastic experience for us. All of our travel segments and transfers went smoothly. We couldn't have asked for a more enjoyable vacation.
Not Recommended
a big disappointment
By: Paula
Reviewed on: 10 Sep 2015
Not your fault but the trip was far from luxurious. The rooms were so small there was no room for even a chair. The food was awful. We were only Americans. Guess the Aussies have a whole other idea of what 1st class means. There were a few highlights but mostly felt like I was on a viking cruise for 5 times the cost of that. When I have more time I will give you the full rundown.
Recommended
Another extraordinary adventure!
By: Alice
Reviewed on: 22 Oct 2015
We have enjoyed another "dream adventure" that was smoothly orchestrated by Barbara. Her expert recommendations significantly enhanced our travel experiences. Thanks so much for everything, Barbara!
Recommended
Fantastic trip!
By: Kathleen
Reviewed on: 10 Dec 2015
What a fantastic six week European trip Barbara created for us! We enjoyed delightful new experiences while revisiting some of our favorite cities. We fell in love with our hotel and it's neighborhood in Venice. All of our new adventures were the direct result of Barbara's creativity and intricate planning and coordination of all our complicated travels.
Recommended
Unexpected Delights
By: Annie
Reviewed on: 25 Feb 2016
My trip was more exciting than I had anticipated. The history of Chile was fascinating. I was immensely pleased with the phase of the cruise to Antarctica. The service staff was most accommodating and pleasant throughout the entire trip. There were always interesting activities during the day. The tour I most enjoyed was the horse ranch in Santiago Chile.
Recommended
Extraordinary high-Arctic experience
By: Lizzie
Reviewed on: 22 Sep 2016
Barbara was the architect who created and meshed the complex elements of our trip to give us an extraordinary, first-ever, once-in-a-lifetime, record-setting luxury cruise through the Northwest Passage. An absolutely fantastic experience!
Recommended
Flawless
By: Pam
Reviewed on: 02 Apr 2019
Once again, Barbara fashioned a perfect trip. The hotels were beautiful and well placed for dining and Sunday Market shopping
Recommended
Perfect Cruise
By: Happy client
Reviewed on: 08 Oct 2016
We had a wonderful cruise up the Norwegian coast to the North Cape, which was the perfect vacation for us. It was restful, with very beautiful scenery and everything was wonderful. Barbara picked the PACIFIC PRINCESS and we loved the ship. All of our vacations have been carefully planned and all the details dealt with in a professional manner. Barbara has planned another cruise for us and we leave very soon. We are very happy with all the service and attention to details so we've received.
Recommended
Another perfect trip
By: Pam
Reviewed on: 06 Oct 2016
As she has done for many times in the past, this an absolutely wonderful trip. Every hotel was a gem. Location perfect, , Virtuoso amenities a welcome bonus. She planned every detail so that the days flowed, not too much to see nor too little. I look forward to the next adventure she will plan for me. Brava, Barbara.
Recommended
Great Trip
By: Charlie
Reviewed on: 06 Oct 2016
We enjoyed our trip very much.
Recommended
Another flawless trip
By: Pno
Reviewed on: 07 Nov 2016
Barbara planned my second annual foliage trip, and it was a great one. We went from Burlington. Vermont , up to Montreal and ended in Greenwich, Connecticut. Along the way we saw magnificent leaf color and stayed in various hotels, big and small. Every day was filled with sights and adventure. All flawlessly planned by Barbara. Once again, I applaud her knowledge and thoughtfulness.
Recommended
40th Anniversary Celebration !!!
By: Happy Cruiser
Reviewed on: 12 Apr 2017
Barbara Stein found the right cruise and the right ship for our family celebration of a 40th wedding anniversary. The whole family group was satisfied with all of her planning . Barbara worked with our budget and everyone's specifications for the trip. There were no problems. We highly recommend Barbara Stein for family group celebrations.
Recommended
Two fantastic months of overseas travel
By: Alice
Reviewed on: 12 May 2017
Barbara was fantastic in creating and coordinating all aspects of my recent 2 months of overseas travel.
Recommended
Another flawless trip
By: Pam
Reviewed on: 20 Jul 2017
This travel agent really knows her stuff. From the minute I leave home until I am home again, every detail is taken care of. Beautiful hotels, great flights. I can just sit back and enjoy everyday of my vacation or business trip. Kudos to you, Barbara, you will plan all my trips forever!
Recommended
A Great Trip
By: Bea
Reviewed on: 06 Aug 2017
Barbara created a great trip for me. I enjoyed wonderful travels, and smooth transit connections throughout. Barbara is absolutely the best Travel Advisor!
Recommended
Trip from CONUS to Athens via Rome
By: Steve
Reviewed on: 03 Sep 2017
Always a pleasure to work with Barbara. Barbara has been my travel agent for 17+ years. The trip to Europe was primarily airline reservations & a hotel accommodation. One aspect of our journey I would like too compliment Barbara on was a side trip to the little known island of Lampedusa Italy. In addition to having several middle eastern refugee camps, it turned out to be a holiday resort island for Italian youth. We wish we had stayed a day longer. One comment: Barbara did not enter our frequent flier numbers into several airlines we traveled on. Barbara has my frequent flier airline numbers. Having said this I am guilty of not reminding her to enter my FFP numbers. Bottom Line: Barbara really knows her travel facts & figures. I always enjoy making my travel arrangements through her. Thank you for allowing me to submit this Advisor Review. Stephen D. Warner
Recommended
Great cruise
By: Barb M.
Reviewed on: 28 Sep 2017
Barbara helped us book the perfect cabin - close to midship and near elevators. She made us pre-cruise hotel arrangements, and arranged for our private transfer to the Brooklyn Cruise Terminal. Barbara's experience and her helpful suggestions were key to our having a marvelous Cunard cruise.
Recommended
Últimamente travel advisor
By: LV-FL
Reviewed on: 11 Oct 2017
I have been working with Barbara for almost 30 years and she ALWAYS manages to pull rabits out of a hat for every single trip she arranges for me and my family I have recommended Barbara to all of my friends and business colleagues and everyone that has had the previlage if working with her comes to the same conclusion I have she and her team are THE ULTIMATE TRAVEL PROFESSIONALS
Recommended
A Wonderful Vacation
By: AL
Reviewed on: 07 Nov 2017
We just completed a wonderful 2 month vacation in Europe. Barbara coordinated our extraordinary and intricate trip that involved 2 ocean cruises, complicated train and air travel between and within Paris, Brussels, Amsterdam, and Copenhagen. Barbara secured unique hotel accomodations for us at each of these cities. Our trip experiences were so enjoyable because of Barbara's tremendous expertise and comprehensive travel knowledge.
Recommended
another seamless trip
By: pam
Reviewed on: 29 Nov 2017
As always, it was a pleasure working with Barbara. I travel assured that everything will be taken care of. First time on Qatar Air and I can't say anything but kudos to them. Thanks Barbara for your continued perfect planning.
Recommended
Greece trip
By: Salste
Reviewed on: 19 Apr 2018
Great working with Barbara and Tatiana.
Recommended
Crystal Serenity world cruise 2018
By: Genise
Reviewed on: 22 May 2018
Awesome, Incredible! Her knowledge and expertise made our journey one of the best adventures, so far, in our lives. She has been instrumental in enriching each destination with special activities and shopping that even the lecturers on board did not know about. Her ability to help us maximize our experiences on the ship, also was a great help in enjoying our world cruise. We couldn't be happier that we found such a knowledgeable and delightful travel agent. We hope to continue traveling and will definitely be using Barbara Stein as our travel agent
Recommended
My Fantastic 2018 World Cruise Travel Advisor
By: Lois
Reviewed on: 31 May 2018
Barbara did a phenomenal job pulling together and flawlessly coordinating a complex 4-month global trip for us that involved two consecutive World Cruises using both Crystal and Cunard ships, and a separate extensive land tour in between. Because of her extraordinary travel knowledge, Barbara was able to help us craft land experiences that maximized our on-shore port time. She is an outstanding professional with unlimited knowledge of all aspects of the travel business, and had the creativity that created unparalled travel experiences for us.
Recommended
A Memorable Trip
By: Kathleen
Reviewed on: 27 Jul 2018
Barbara took the stress out of our complicated travel planning. She was always available, and quick to offer creative touring suggestions. She gave us fresh ideas concerning a travel location that we had previously visited several times. Barbara was the archetict who created a memorable travel experience for us.
Recommended
The great trips just keep coming
By: Pam
Reviewed on: 03 Aug 2018
Barbara once again planned a great trip for me, my daughter and granddaughters. Multigenerational outings that suit everyone are certainly a challenge, and she is a genius. Hotels were perfect, connecting rooms always. The cabin she selected for my daughter, who is prone to seasickness was perfectly placed. Not a sick day. Thank you, Barbara. On to next adventure.
Recommended
Alaska Adventures
By: Al
Reviewed on: 07 Sep 2018
Barbara's expertise and knowledge of all aspects of Alaska travel combined to give us unique and memorable experiences throughout our 2 weeks of Alaskan adventures.
Recommended
Flawlessly planned trip
By: Pam
Reviewed on: 13 Nov 2018
Once again Barbara has put together a trip that has been a absolute joy. Everything worked to perfection. Could not or will not travel without her.
Recommended
Crystal cruising and African safari
By: Genise
Reviewed on: 22 Apr 2019
It is always delightful to work with Barbara Stein. She is an expert at planning complex itineraries. She is very diligent and in my experience everything goes smoothly when she is planning your trip. I loved my safari at Leopard's Hill. The transition to Cape Town and the Crystal Serenity was seamless. While on the ship she is always available to solve any small problem that arrives. She is a super A++ Agent
Recommended
A delightful vacation experience
By: Bea
Reviewed on: 18 Aug 2019
Barbara turned all of our travel desires into fantastic experiences throughout our just-completed vacation. She's a stellar travel advisor!
Recommended
Crystal world cruise
By: Sushi
Reviewed on: 18 Mar 2020
Thank god for Barbra, what a gem she is. With all the confusion and changes in schedule she was on top of her game and it all, never missed a beat in rearranging flights hotels etc. without even asking or needing to request help she and ted took care of everything. She and Ted are the best of the best and a pleasure to work and travel with.
Working with Barbara Stein, you will have access to:
- An experienced travel guide whom you can rely on before, during, and after the trip
- Exclusive luxury resorts and properties
- Once in a lifetime experiences
Explore with the Best
Virtuoso Advisors are constantly pushing the boundaries in unique travel experiences.
Alliance programs are unique tailored experiences exclusive to travelers working with Virtuoso Travel Advisors.
learn more