Travel Specialties
Interests
Adventure
Family Travel
Safari
Independent Tours
Ocean Cruising
Destinations
New Zealand
United Kingdom
Botswana
India
Italy
Selling Travel Since
1988
My Background
I am married with two grown and married daughters and 5 grandchildren. In addition to my devotion to my family and addiction for travel, living just west of Boston has me loving New England, the Red Sox, the Patriots and the Celtics!! I have had the privilege of working in the travel industry since 1988. My passion for unique experiences, when combined with my extensive firsthand destination knowledge, has enabled me to successfully convert many of my client's dreams into lifelong travel memories. I have been featured in a number of distinguished travel industry periodicals and articles detailing my obsession with service, details and client customization. I believe two clients can visit the same destination and have an entirely different experience due to my ability to personalize their itinerary to their respective needs. I specialize in deluxe, custom designed land tours and cruises. The unique insights that I offer are the result of me having traveled to many different countries and continents. I look forward to the privilege of making your travel dreams a reality!
A life worth living is a life well traveled.
Places I Have Traveled
Reviews and Recommendations for Gail Rosenberg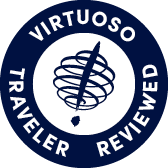 Virtuoso Verified Traveler
All reviews are from confirmed guests sharing exclusive insights
Sort reviews by
Recommended
My agent makes the difference
By: Andie
Reviewed on: 12 Apr 2013
Gail Rosenberg planned my African Safari to be a trip of a lifetime. Gail told me ,as we planned ,that she wanted me to see Africa the way she wanted me to see it. So I put my trip in her hands and she didn't disappoint. Every detail was covered as we were met and transferred by the Wilderness team all along the way. At every safari camp we were met by waving staff members, with big welcoming smiles on their faces. I saw every big and small game that Africa had to offer. I am convinced that Gail had her hand in that too, by choosing such wonderful camps. I can't say enough good things about my Wilderness guide, Dave Todd, in Capetown and wine country. He was fantastic, friendly and so knowledgable of Africa; the cape area in particular. Dave gave me wine tasting tips and photographic advice all along the way. I loved every day of my 21 day trip and Gail made all that happen.
Recommended
Highly recommended
By: Not provided
Reviewed on: 30 Nov 2013
The BEST travel agent. Perfect in every area!!! I would only use Gail. Very efficient, and knowledgeable
Recommended
Very highly recommended
By: Carol and Jummy
Reviewed on: 22 Feb 2014
FAbulous and everything went snoothly
Recommended
Fabulous Adventure!
By: SWT
Reviewed on: 26 Mar 2014
Very well planned and executed. Enjoyed hotels, guides and drivers.A wonderful trip from start to finish!
Recommended
The perfect travel agent!!! Absolutely dependable and helpful every step of the way!
By: Not provided
Reviewed on: 26 Apr 2014
Recommended
Highly recommended
By: Not provided
Reviewed on: 12 Jul 2014
Recommended
Highly recommend
By: Rob
Reviewed on: 24 Jul 2014
Excellant agent!!
Recommended
Great in all respects
By: David G
Reviewed on: 16 Sep 2014
We love the hotel and our room, the amenities, and the service were all a 10. Can't wait to come back.
Recommended
great time
By: JGM
Reviewed on: 01 Oct 2014
We had a wonderful trip to the UK.
Recommended
Planned the Perfect Trip
By: McKey
Reviewed on: 03 Oct 2014
Gail helped my daughter and me plan a mother-daughter trip to Mallorca and Barcelona after a family wedding in Rome. We asked for her help very last minute, and she jumped right in to recommend and book hotels, book our air travel and car rental and airport transfers. Her recommendations on hotels were perfect for us, she made all the arrangements efficiently, the booking info was sent to us promptly, and, most importantly, she was a pleasure to work with. We felt that we were in the best hands!!
Recommended
Perfectly planned trip
By: Billk
Reviewed on: 06 Oct 2014
Gail was great - she found us the best-situated, coolest boutique hotel in Rome, and organized transportation for us to drive to the Island of Elba. We loved the whole thing - thanks Gail!
Recommended
Knowledgeable, easy to work with
By: wg
Reviewed on: 22 Oct 2014
Gail is quick-thinking, easy to work with, and knowledgeable about what she does. She understood exactly what I was looking for and offered great recommendations!
Recommended
Outstanding service, as always!!!
By: Steve
Reviewed on: 31 Dec 2014
Gail did a phenomenal job, as she always does! Excellent choice of air travel and hotels -- tailored to our specific tastes. We wouldn't go anywhere without Gail's expert help! She is a pleasure to work with!
Recommended
Consistent, outstanding performance
By: JinBos
Reviewed on: 13 Feb 2015
Consistent, outstanding performance...... has wide personal experiences which make her recommendations accurate.... available to solve a crisis 24/7..... very highly recommended....
Recommended
Excellant service
By: Robin
Reviewed on: 19 Mar 2015
Excellant service, very knowledgeable, very patient, very helpful. Love my travel agent Gail!!!!
Recommended
very attentive, complete service
By: asl
Reviewed on: 22 Mar 2015
Gail took care of unplanned trip on short notice with great care, despite ongoing changes. She was constantly available and took care of everything asked of her.
Recommended
Expert personable service
By: Susan
Reviewed on: 27 Mar 2015
Everything was perfect. There were aircraft changes and schedule changes and Gail stayed on top of everything for us. We were a large group traveling together and it was just perfect!
Recommended
L0s Angeles
By: DEG
Reviewed on: 14 Apr 2015
Our trip was perfect. Gail arranged everything perfectly. Our car was waiting at Hertz, the flights were fine and the hotel is the best. All was great.
Recommended
Great service
By: Commodore
Reviewed on: 03 May 2015
Gail is efficient,caring,diligent and puts clients needs first.Her recommendations for hotels have been excellent..mans I know if something goes wrong Gail can fix it.
Recommended
Attention to detail
By: BQ
Reviewed on: 19 Jun 2015
Gail offered great advice and got us terrific connections on all our flights. It was a complicated itinerary and she handled every detail of it. Gail told us how to get our Visas online and made sure we did that in a timely manner. So easy to work with.
Recommended
Wonderful Service….
By: J7011
Reviewed on: 11 Jul 2015
Gail service is wonderful…. She is consistently, friendly, competent and on time…. I could not ask for anyone better….
Recommended
Super efficient, friendly and helpful.
By: AlexN123
Reviewed on: 14 Aug 2015
I'd never used a travel agent before our honeymoon, and now I don't think I'll ever book travel without Gail again. The experience was so easy, Gail did all the research and booking the best possible flights and hotels for us. She gave us her recommendations, and gave us some strong advice on other things we were thinking about (which in hindsight, I'm very glad we followed). She hooked us up with the Virtuoso program, which gave us access to complimentary breakfast buffet packages at both hotels we stayed (the value of which was around $100, per day). That sounds like a small thing but ended up being very key. She also is very dedicated and personally invested in the satisfaction of her clients. She encouraged us to reach out to her at whatever time of day or night whenever we had questions or itinerary changes that we wanted to make, and she was without fail, extremely accommodating. Simply put, she's the best. Thanks Gail!
Recommended
Friendly and Expert Service
By: Andy
Reviewed on: 13 Aug 2015
We had to make multiple changes to our itinerary mid trip and Gail was very helpful in assisting with the arrangements. She was also very helpful in the planning stages and getting me information on my trip in a timely manner. Thank you!
Recommended
Perfect Safari
By: Vrees Family
Reviewed on: 08 Sep 2015
Every single detail of our trip was perfect! I can't imagine how it could have been any better. Lodging, food, service, guides, transportation and itinerary should be a model for other similarly minded clients. Gail, you outdid yourself once again. THANK YOU!
Recommended
Great
By: Traveling Doc
Reviewed on: 16 Sep 2015
very attentive to details and very resourceful
Recommended
Expert planning and execution
By: art
Reviewed on: 20 Sep 2015
Gail found us an excellent hotel and used miles for our overseas flights. All went smoothly.
Recommended
Great Service
By: Arnie18
Reviewed on: 07 Oct 2015
As always, every last detail was planned to perfection
Recommended
a lovely weekend
By: JGM
Reviewed on: 18 Dec 2015
Gail planned a nice getaway for us at the Four Seasons. When we arrived in our upgraded room, we had a lovely surprise -- a nice cheese plate, two martinis ready to be mixed, and a nice chilled bottle of chardonnay. We felt very welcome! The service was great all weekend and we really enjoyed the breakfast buffet that was included in our room price.
Recommended
St Barths
By: Don
Reviewed on: 01 Jan 2016
Guanahani is a wonderful boutique hotel Great service and staff All the rooms have been recently updated We would compare this to Anguilla (which had always been our favorite island) With the Euro has favorable as it is, it makes St Barths semi reasonable alternative
Recommended
Exceptional professional service
By: charlie
Reviewed on: 05 Jan 2016
I can't say enough good thing about Gail. Always Exceptional professional service.
Recommended
Superb, As Always!!
By: Steve M
Reviewed on: 24 Feb 2016
Gail did a phenomenal job arranging our "last minute" trip to Las Vegas! As always, she goes out of her way to make sure every detail is taken care of. She is a true "gem"!
Recommended
Friendly , Knowledgable and Efficient
By: G4
Reviewed on: 16 Mar 2016
My experience with Gail was extremely positive. She was efficient, professional and helpful.
Recommended
Family Trip to Hawaii
By: Jules
Reviewed on: 21 Mar 2016
Gail helped plan a wonderful family trip that included great hotel accommodations for our young family. Her expertise helped guide me in making the best choice for our family. In her absence, her colleague Jane was most accommodating to help through a last minute change. I have been working with Gail for many years and she had gotten to know our family well. I value her insight and trust her recommendations. I would be glad to recommend Gail to others!
Recommended
Great service.
By: arthur
Reviewed on: 07 Apr 2016
As usual, Gail is on top of all of our needs.
Recommended
Not A Single Misstep!
By: Susan26
Reviewed on: 09 Apr 2016
We loved our trip to New Zealand from start to finish! Our Lodges were outstanding, the scenery gorgeous, we liked every one of our guides/drivers. The food and wine was delicious, all our planned activities were terrific - educational, fun and very worthwhile. The people are outgoing,friendly warm and playful! New Zealand is an excellent adventure!
Recommended
The Best Travel Advisor Ever
By: pk
Reviewed on: 12 Apr 2016
Gail's knowledge and ability to connect with appropriate resources to make travel plans anywhere in the world is only surpassed by her personality, genuine care for her clients and ability to relate on all levels!!
Recommended
All worked well--nice trip
By: pokerplyr
Reviewed on: 25 Aug 2016
Everything went as planned--that's what we expect
Recommended
the best
By: Connie
Reviewed on: 30 Aug 2016
Every trip is perfect when Gail arranges it...can I say more!
Recommended
She's amazing
By: Connie
Reviewed on: 05 Oct 2016
We have never been disappointed when Gail has planned our trip. She has so much knowledge and really understands her product and her client. We know we can't go wrong when Gail plans a trip for us. She is the best!!!!
Recommended
Great service....very friendly
By: Rocky
Reviewed on: 15 Oct 2016
Great service from start to finish. Many travel agents are good at the beginning. Not only does Gail's plan a great trip: she is always there when things don't go as planned and you need her expertise to solve a problem.
Recommended
Outstanding Service, as Always!
By: Steve
Reviewed on: 07 Nov 2016
Gail is phenomenal! She does the very most to make every one of our trips successful. She is a true pleasure to work with!
Recommended
Requested Review (Of Gail and Holland America and Delta Airlines)
By: Bob
Reviewed on: 20 Jan 2017
Great. A very nice person and a very professional person.
Recommended
New Zealand
By: Val
Reviewed on: 01 Mar 2017
i have worked with Gail for many years. She definitely knows by now what I like and what I will be willing to spend money on and where I like to try to save. Gail has been really terrific- we have had many great trips that she has helped to plan and of course I cannot wait to plan the next one!! I have recommended her to friends and family and will continue to do so!
Recommended
Harbour Island
By: Dawn B.
Reviewed on: 02 Mar 2017
She is so knowledgeable about locations and resorts. Haven't had a bad trip yet.
Recommended
Palm Beach
By: Kay
Reviewed on: 04 Mar 2017
As always, Gail does a first class job in getting the best perks possible. We were upgraded and everything went smoothly. Gail is very efficient and leaves no detail unattended to.
Recommended
Miami - Nashville - Boston - Miami
By: Rocky
Reviewed on: 13 Apr 2017
Easy and professional.... she solves all problems....
Recommended
California trip
By: Kay
Reviewed on: 04 Jul 2017
Gail is the best travel consultant I have ever used. We travel frequently and I used to,do,all the planning myself, but now I would not do,it without Gail. Her attention to detail,and follow up is first class - something you don't find in many people today. She cares about her clients and I feel as if she is a long time friend who caters to our every need. Her knowledge and experience are invaluable and she is always available to answer questions. Gail is truly one of a kind and I love dealing with her.
Recommended
Another success!
By: Maya
Reviewed on: 10 Jul 2017
The hotel was PERFECT and the flight went smoothly. Gail really knows what we like and always nails it!
Recommended
Gail is great
By: JGM
Reviewed on: 17 Jul 2017
Gail is great -- she got me wonderful discounts and upgrades.
Recommended
Gail
By: Jo
Reviewed on: 18 Aug 2017
Gail is a truly dedicated travel advisor. She attends to every detail and thinks of her clients' individual preferences. Every trip we have taken with Gail has been more wonderful than anticipated. I would never plan even an overnight get away without Gail's help.
Recommended
Gail
By: Slim
Reviewed on: 05 Sep 2017
Easy as always and great attention to detail. Gail arranges all our travel because she has proven to be knowledgeable, detailed and especially friendly and caring.
Recommended
Great Job
By: no thanks
Reviewed on: 25 Oct 2017
Always a pleasure. Gail is very efficient and responsive.
Recommended
Gail Rosenberg - Don't leave home without her!!
By: Jo
Reviewed on: 16 Nov 2017
I only use Gail as a travel advisor. She is so well versed in both domestic and international adventures. Gail is detail oriented and presents lots of options in terms of destinations, where to stay, how to get there and highlight experiences. She really listens to her clients therefore producing a highly customized trip. I would never go anywhere without Gail's help and recommend her completely.
Recommended
A Superb Travel Experience!
By: Steve
Reviewed on: 03 Dec 2017
Every trip planned by Gail Rosenberg is a true pleasure!! She is exceptionally caring and competent!
Recommended
trip
By: art
Reviewed on: 08 Dec 2017
Always a pleasure, helpful and efficient.
Recommended
Another great trip!
By: Jill
Reviewed on: 16 Dec 2017
Gail is fantastic. She is a wonderful listener and is able to capture all your needs:)
Recommended
Easy
By: Jim
Reviewed on: 29 Jan 2018
Every thing was smooth
Recommended
Outstanding personal service
By: sgk
Reviewed on: 31 Jan 2018
Gail is a wonderfully informed and responsible travel agent. She tries to secure any information desired by her client and she works very hard to make travel plans respond to the wishes of her client. She is outstanding in her field.
Working with Gail Rosenberg, you will have access to:
- An experienced travel guide whom you can rely on before, during, and after the trip
- Exclusive luxury resorts and properties
- Once in a lifetime experiences
Explore with the Best
Virtuoso Advisors are constantly pushing the boundaries in unique travel experiences.
Alliance programs are unique tailored experiences exclusive to travelers working with Virtuoso Travel Advisors.
learn more
New Zealand
United Kingdom
Botswana
India
Italy
Kenya
Namibia
South Africa
Tanzania
Zambia