Travel Specialties
Interests
Adventure
Family Travel
Safari
Ocean Cruising
River Cruising
Destinations
Italy
Botswana
France
Germany
Spain
Selling Travel Since
2003
My Background
I got my start in the travel industry working with airlines, and now I coordinate itineraries all over the world by all modes of transportation--air, sea, river, rail, bicycle, hot air balloon, and automobile (maybe even a tuk-tuk or rick shaw) . I love to work with ocean and river cruisers, adventure seekers, and foodies!
When I begin to work with travelers, I start by finding out your intention for the trip. Are you looking for cultural enrichment or knowledge? Rest and Relaxation? Time to connect with family and friends? Or a combination?
I believe travel is an investment in your memories and my job is to help you plan and spend carefully for the best return on investment ever! I personally appreciate great value and seek it out for you on every aspect of your trip.
Favorite places--Machu Picchu, Petra, Istanbul, Okavango Delta, Cape Town.
So far in 2018 , I have been able to enjoy Tahiti (on the Paul Gauguin), London, and Ireland (Dublin, Ashford Castle, K Club) . I am heading to Panama to sail in the Crystal Symphony through the Caribbean in late April. Later this year, I will sail on the Crystal Bach on the Rhine.
2017 allowed me to visit the Japanese cities of Toyko and Kyoto and embark on fabulous expeditions in the Sea of Cortez with UnCruise and the Galapagos on the Silver Galapagos. I finished the year in Vienna to experience the Christmas Markets aboard the Crystal Mozart on the Danube in December.
My 2016 travel included Lanai, Oahu, Vietnam, Cambodia and the Mekong river with AmaWaterways, the new Seven Seas Explorer in the MED, and the Crystal Symphony in the Panama Canal.
I look forward to working with you to plan your next memories!
Places I Have Traveled
Reviews and Recommendations for Bitsy Clayton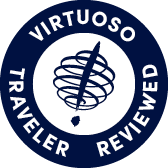 Virtuoso Verified Traveler
All reviews are from confirmed guests sharing exclusive insights
Sort reviews by
Recommended
We were treated like royalty
By: Jerry and Sue
Reviewed on: 30 Jul 2015
On our recent stay at the Hotel Toira on the le de Re in France we were always given the best table in their restaurant. The staff waited on us hand and foot. They seemed to be extra attentive to us. We realized that it was what we now call "the Bitsy factor". Cadence made the difference.
Recommended
Great service
By: Rose, NYC
Reviewed on: 30 Aug 2015
Service was excellent and given with grace even when I had a last minute situation. I had a great room with special amenities from Bitsy, my agent.
Recommended
Expert Service
By: Traveller
Reviewed on: 05 Oct 2015
Bitsy Clayton did an excellent job helping us with our trip. It was more complicated then most because we included my husband's sister and her husband. This included arranging their air with Holland America. We had some last minute changes for Bitsy to take care of but everything went just fine. Everything went just as planned and was seamless. I would recommend her in the future to other cruisers. We will call her again when we cruise in the future.
Recommended
Knowledgable, Friendly and helpful
By: PB
Reviewed on: 20 Oct 2015
Bitsy listened closely to our likes and dislikes and was able to select a very nice cruise for us. She was helpful without being pushy, gave us thing to think about and helped us arrange the best trip for our budget.
Recommended
Surprise Success!
By: davjav
Reviewed on: 21 Oct 2015
Bitsy worked with me to plan the ultimate surprise for our parents. We wanted to meet them on their trip in Prague. Bitsy discreetly arranged for us to get a hotel room as part of a suite (the Four Seasons Hotel in Prague was wonderful!) and also coordinated with the private touring company to get a larger vehicle and driver (our tour guide was excellent). She was a pleasure to work with and this trip will be something we all talk about for the rest of our lives!
Recommended
Everything I hoped for
By: Beauty and Light
Reviewed on: 20 Oct 2015
Bitsy was recommended to me by friends to help plan a trip to India for myself and my 2 adult children who were born there and have not been back since they were infants. She listened to the goals we had for the trip and created an itinerary that was full, varied, and fun. It met my budget. She modified some plans to better accommodate our goals. She stayed in contact with me throughout the planning process. We had a unique problem with my children's visas. Bitsy again, stayed in contact with me as we worked through it, staying calm and positive, and offering acceptable alternatives if the problem could not be resolved before our trip was to start. With 72 hours to spare (!), the visas came through and we were able to leave as planned. It was a wonderful time for all of us; a chance to travel and enjoy uninterrupted time together and a chance for my children to appreciate the country of their birth and the gifts of the country of their home. We all had a wonderful time.
Recommended
Great Recommendations!
By: Etch
Reviewed on: 06 Jun 2016
My family took our first ever trip to Hawaii and needed help! We went to the right person- Bitsy was full of great ideas and suggestions. The trip ended up being everything we hoped for and more and I believe her guidance had a lot to do with that. She even had to step in mid-trip and help with an issue! She did so willingly and we ended with a great outcome. I would highly recommend Bitsy and plan on using her for our next vacation. Mahalo!
Recommended
Everything went exactly as planned!
By: Europe 2016
Reviewed on: 15 Jul 2016
As usual Bitsy delivered like the 5 star agent she is. Trip was excellent and accommodations were first rate. Can't wait to book another European vacation using Bitsy as our guide.
Recommended
British Isles
By: Sue
Reviewed on: 15 Jul 2016
Our trip turned out wonderful. 5 nights in London, a day trip to Paris and a day tour to Stonehenge, Bath and Windsor Castle. Thank you Bitsy for making sure everything fell into place. Upgrading to a suite on the ship made the three us so much more comfortable. Thank you for being on top of the cruise ship. You have been so professional and made all our trips fantastic. You have been recommended to every person I know that plans a trip, your knowledge makes things work. Thank You Sue
Recommended
Amazing service and Resort!
By: JazzJ
Reviewed on: 17 Jul 2016
My recent trip to Costa Rica for a birthday celebration was amazing! Thanks to Bitsy from Pleasant Holidays my boyfriend and I stayed at the all-inclusive, adult only, Secrets Papagayo Resort. It is on the Caribbean side of the country and the water is a beautiful deep blue, the Resort is just a 30 minute cab ride (through the Resort) from the airport. The service was amazing from the front desk, waiters and beach service. There was plenty to do at the Resort, all non-motorized sports were included and then they also have a area for easy access booking of extra excursions! We have already talked about going back in the future and hopefully staying longer!
Recommended
great service
By: nahid
Reviewed on: 22 Jul 2016
we received great service
Recommended
Jackson Hole
By: Mare
Reviewed on: 06 Oct 2016
The trip to Jackson Hole was perfect. The Four Seasons was great and they upgraded our three nights to a beautiful mountain view room. They made it very easy for us to move to the residences mid week. The aspens were the best ever! This is definitely the time of year to visit. Could not have been more beautiful and the weather was perfect. Thanks much for your help!
Recommended
Bitsy is Simply the Best
By: BradSD
Reviewed on: 06 Oct 2016
Bitsy put together a dream trip for my wife and I and two other couples, each of us celebrating wedding anniversaries. We don't know how she did it but she secured us business and first class round trip airfare to Europe for a minuscule cost above economy. Our experience on the 14 day cruise made it a trip of a lifetime for us. As deals became available in the time before debarkation, she saved us considerable money and we received generous upgrades. Our hotels on either end were in perfect locations. We're already planning our next two or three trips and are advising everyone we know to work through Bitsy. Thank you!!
Recommended
Easy fun with friends!
By: GrannyL
Reviewed on: 24 Oct 2016
We girls had a terrific time celebrating our friendship! All of Bitsy's expert help made everything smooth and easy! From adjusting our bookings to the best available promotions, to arranging our wonderful pre-cruise hotel, to our surprise treats on board, we couldn't have asked for a better experience. We booked our next trip while onboard.
Recommended
Best Travel Agent
By: angem64
Reviewed on: 26 Nov 2016
In planning our Panama Cruise we had an unusual lengthy list of objectives and "special needs" so we chose to consult and work with Bitsy Clayton because of previous cruise associations with her. Bitsy did an outstanding job and exceeded all of our expectations in her perpetualy vivacious and exceedingly competent manner.
Recommended
Best ever
By: charles
Reviewed on: 26 Nov 2016
Bitsy was great to work with. She was prompt, efficient and pleasant. A great combination. The best review we can give is that we have already booked another cruise with her.
Recommended
Better Than Real Life
By: Skibum67
Reviewed on: 03 Nov 2017
Bitsy is the best! She's always ahead of me in anticipating what needs to be done.
Recommended
Silver Sea Cruise
By: Todd Way
Reviewed on: 21 Nov 2017
very responsive and effective.
Recommended
Review of Bitsy Clayton
By: Ron
Reviewed on: 25 Dec 2017
Very easy to work. She was very responsive to all my requests. She did an excellent job.
Recommended
Bitsy, Wonderful Travel Agent and Adviser
By: Sue
Reviewed on: 11 Jan 2017
Thank you Bitsy for taking care of our travel necessities. The actual cruise ship was fine, had plenty to do while on board. The shows were pretty good. My only compalint is that the food in the main dining room was never hot and the food in the buffett was cold. The only hot food was what was cooked by the poolside and if you had an omelet made to order. The food at the La Cuchina specialty restaruant, was the best and was hot when received. Yes, I would cruise with NCL again mainly because it is affordable for a 7 day cruise. Sue
Recommended
Our trip advisor Bitsy Clayton
By: stinky
Reviewed on: 28 Jan 2017
Bitsy was always very nice to us . She scheduled special excursions for us and everyone involved was on time and took extremely good care of us. Betsy knew her role and seemed to go to great lengths to fulfill our every wish. No one could have been nicer.
Recommended
Bitsy is the Best
By: CT travelers
Reviewed on: 11 Feb 2017
As always, she was great: informed, prompt, and always pleasant.
Recommended
Penguins
By: Tillie
Reviewed on: 09 Feb 2017
Bitsy was always available to answer any of my questions about the trip. She is very supportive and knowledgeable to acquire extended sightseeing trips and transfers.
Recommended
Extremely Happy
By: Ed
Reviewed on: 16 Jun 2017
Consistently great!
Recommended
Always a Pleasure, Pure Professional
By: Skim @ Sea
Reviewed on: 08 Jul 2017
This is second cruise we have booked through Bitsy after she was highly recommended by dinner mates on a previous cruise who have used her for many years. In all cases she has been helpful, knowledgeable, and very responsive to questions and requests. Would never use anyone else.
Recommended
Greece with the Grandkids
By: Greece
Reviewed on: 09 Jul 2017
Bitsy is a joy to work with.
Recommended
Another wonderful vacation!
By: GA Travelers
Reviewed on: 26 Jul 2017
Our third cruise vacation designed by Bitsy and once again, she nailed it. Our pre-cruise Stockholm hotel was delightful and in a perfect location. The cruise was amazing. The tours Bitsy recommended were the best- all with excellent guides who could steer us around the crowds. We are starting to think about our next adventure and we will definitely call on Bitsy to help us again. She covers all the details and is a pleasure to work with.
Recommended
Bitsy
By: Mare
Reviewed on: 28 Jul 2017
great to work with! Always on top of things and has great ideas. Lots of fun too!
Recommended
excellent again
By: am
Reviewed on: 06 Aug 2017
Bitsy has been our family travel agent for 5 years. She has been wonderful, planning creative and adventurous cruise and land trips around the world for our multi-generational, demanding group. Her insight and experience have been invaluable. We recommend Bitsy highly.
Recommended
Scenic Cruise
By: Chris
Reviewed on: 16 Aug 2017
Bitsy was always helpful - suggested this cruise when we decided late to go on a river cruise. Was able to find a cruise for us that fit into our schedule.
Recommended
Paris Hotel
By: Ed N.
Reviewed on: 24 Aug 2017
Bitsy picked a great hotel in the heart of Paris. In addition, our room was upgraded upon our arrival which was a welcome surprise.
Recommended
jj
By: JJ
Reviewed on: 16 Oct 2017
Best Travel Advisor ever worked with.
Recommended
Mediterranian Oct 17
By: Miss Roxanne
Reviewed on: 12 Nov 2017
Bitsy has been a pleasure to work with. Friendly, knowledgeable and very helpful.
Recommended
Our first Crystal cruise
By: Ray
Reviewed on: 27 Oct 2017
She was very good communicating with us. She made sure everything needed to be done was done so we could have a smooth sailing. She followed up on items we ask. She is very pleasant to work with. We have recommend her to our friends and family. We are more than pleased with her.
Recommended
New England cruise
By: Anna
Reviewed on: 20 Oct 2017
She was very helpful and was always available when needed.
Recommended
Advisor Review
By: Sue
Reviewed on: 26 Dec 2017
Bitsy is so vivacious and knowledgeable. She is fun to work with and makes a trip more fun. She knows her stuff and I cannot imangian planning a trip without her help.
Recommended
Trip to New Yor
By: Chuck
Reviewed on: 16 Dec 2017
Bitsy is great to work with. Competent and friendly.
Recommended
Bitsy Clayton
By: TGJ
Reviewed on: 27 Dec 2017
Great travel agent
Recommended
Bitsy Christmas market cruise
By: Sugar Buns
Reviewed on: 27 Dec 2017
Always a pleasure working with Bitsy
Recommended
HAL ain't what it use to be!
By: Larry at Sea
Reviewed on: 31 Mar 2018
Always a pleasure. Bitsy is consummate professional offering helpful advice, good value, and continual follow-up.
Recommended
Encore
By: Terry
Reviewed on: 28 Mar 2018
Superior Professional Provided Services above and beyond Excellent Follow Up
Recommended
wonderful advisor
By: am
Reviewed on: 07 Apr 2018
We have been fortunate to have Bitsy Clayton as our travel advisor for the past five years. She has planned several fabulous adventures for our multi-generational group. We have made some ambitious requests and Bitsy has always delivered more than we hoped. She has been invaluable when the inevitable travel snafu has popped up, resolving difficulties quickly. Very highly recommend.
Recommended
Caring Bitsy Clayton
By: Bunki
Reviewed on: 16 Apr 2018
Bitsy is wonderful. I have called her and arranged a cruise two weeks before the sail date and it was a great experience. She us always cheerful and happy to help make your trip very special. I cannot say enough abou Bitsy's customer service. I hope I can work with her for a very long time.
Working with Bitsy Clayton, you will have access to:
- An experienced travel guide whom you can rely on before, during, and after the trip
- Exclusive luxury resorts and properties
- Once in a lifetime experiences
Explore with the Best
Virtuoso Advisors are constantly pushing the boundaries in unique travel experiences.
Alliance programs are unique tailored experiences exclusive to travelers working with Virtuoso Travel Advisors.
learn more
Italy
Botswana
France
Germany
Spain
Peru
Argentina
Mexico
Turkey
United Kingdom